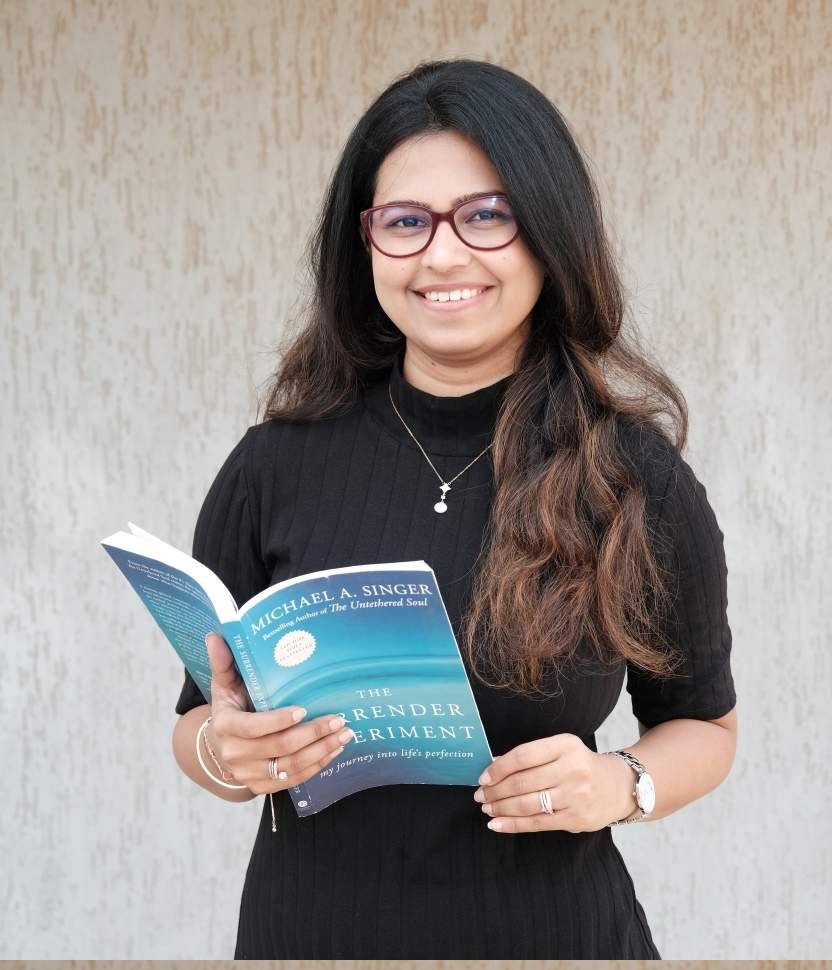 Rasika Karkare
(Counselling Psychologist,
Specialized in couple therapy)
Founder & CEO
---
I am a certified therapist and have an experience of working with various psychological vulnerabilities for more than 5 years. I have been working with adults in the age range 18-40 years who present a wide range of emotional/mental health concerns. Recently in early 2023, I made my transition into being a full-time couple therapist as I feel that was 'my calling'. I extensively trained myself in couple therapy as it is interesting, challenging & an intricate work. In my practice, I strictly adhere to therapies based on scientific evidence and value ethical guidelines provided by APA (American Psychological Association).
I believe therapy is a critical journey that one decides to embrace and as a therapist, I feel responsible to offer my best services. I believe client's are best judge of their own lives, so rather than advising them, I believe to take them on a journey on deeper exploration where they come up with their own solutions. Metaphorically, you will always be driving the car, but I will sit in the backseat of your car to navigate the path with you. I look at therapy as a safe space to heal through ongoing emotional wounds and give a healthy closure to unfished businesses of the past.
I use wide range of approaches in my practice, mostly Systemic, Person-centered, Emotion focused theories and the Gottman method. I believe to curate custom-made counselling plans for my clients which are best suited for their concerns. My work aims to make my clients independent in the outside world too.
Educational background:
B.A. in Psychology – S.I.E.S college, Mumbai, India.
M.Sc. in Counselling Psychology – Christ University, Karnataka, Bangalore.
Certification in Couple and Family Therapy – TISS, Mumbai, India.
Training in Gottman Method of Couple Therapy, level 1 &  2, ongoing – The Gottman Institute, USA
Continued Professional Development:
Systemic Family Therapy – 10 days Workshop Series by Linda Jane (2018)
4th International Conference on Counselling, Psychotherapy and Wellness (3rd-6th January, 2019)
Dialectical Behaviour Therapy – Introduction and Application by NIMHANS, Bangalore (2020)
Getting to the heart of Couple Client Dynamics by Nicola Jones – International attachment network, India (2020)
Family Constellation Workshop by Annie Cariappa – Spanda Asia, Bangalore (2022)
Experiential group for early career therapists – IAN in collaboration with Group Analysis India (2022)
Work Experience:
Clinical Psychology trainee – Sion Hospital and Sushrusha hospital, Mumbai. (2016, 2018)
School Counsellor – Rashtriya Military school, Bangalore. (2018-2019)
Visiting Faculty for Psychology graduates – R. D. National College, Bandra, Mumbai. (August 2019 – March 2020)
Founder and counseling psychologist at Mind Voyage (May 2019 – ongoing)
Mental Health advisor/ workshop organizer at Karkare Academy (2020 onwards)
Publications: 
A qualitative study on 'Exploring effective counselling practices being followed by mental health professionals in India' – Original research article in the 'Indian Journal of mental health' (2018)
I believe, my first and foremost duty is to take care of myself so that I can authentically show up for my clients. To achieve the same, I am in regular ongoing therapy and supervision (peer and individual) to constantly learn and improve the quality of my work.