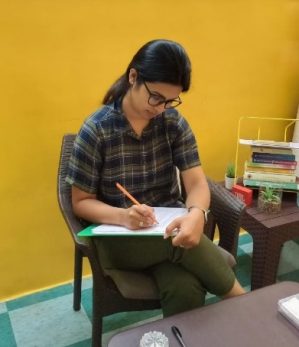 The Mind Behind Mind Voyage
Rasika Karkare
Counselling Psychologist in Mumbai
My Goal

Providing effective mental health care, breaking the stigma related to seeking help and creating more ethical healing spaces for clients by training/mentoring budding psychologists.

Qualification

M.Sc in Counselling Psychology

Location

Dadar (West) , Mumbai

What I do

Individual, couple and group therapy, conducting workshops, training psychologists

Counselling Psychologist
We are now open for conducting online therapy sessions
Timings for online sessions
Monday to Friday: 11-1 pm, 4 to 8 pm
Saturday to Sunday : 11am -2 pm
Modes of Therapy
Skype/ zoom/ Google meet
How to Book
To book your session Call on 9972449749 or Book using the button below.
*All Appointments cancelled, rescheduled or missed without at least 8 hours prior notice are non refundable.
Welcome to MindVoyage
MindVoyage is a Mental health organization based out of Dadar (West), Mumbai. Aiming to provide the necessary 'talking cure' to the people with psychological vulnerabilities, it also tries to address the importance of mental health which is often side tracked. The reasons of that might be stigma, societal pressures or plain unawareness about the counselling process. MindVoyage also encourages everyone to take this journey because counselling is not only for a rare few, but for everyone who wants to grow and flourish as a person by learning to maintain the wellness. As a counseling psychologist I hope to remedy your concern and help you through our work together.
Know More
"It's all in the Science"
All services offered strictly follow evidence based therapies and has foundation in scientific theories. These practical strategies and therapeutic interventions work as effective tools to deal with mental health concerns. As a professional therapist in Mumbai, I use various concepts of counselling and create a customized approach for every concern presented by you. Every unique individual will be addressed and celebrated here.
Issues I help with
THE MOST COMMON QUESTIONS ABOUT THERAPY
What is therapy session like?

It is a safe space where the discussed concerns are kept confidential and you gain an expert support. Counselling is not advice giving or guidance, but counsellors provide right direction and help you towards growth and positivity. It is an open and honest communication process, where best suited evidence based practices are applied.

What kind of training do you as a professional counsellor have?

Specialisation in counselling psychology (Masters degree) along with 300 hours of supervised work is must. Since India does not have licensure exams, make sure you choose a counsellor with psychology background and practical experience.

Why is it better to work with a counsellor than to work things out on your own?

Counsellors are experts in helping people with personal issues that are keeping them from being happy, healthy, and moving forward. It is much easier to deal with these issues with an expert than to do it alone. Counsellors are trained and they posses skills to help you deal with various concerns.

Does it mean there's something "wrong" with you if you see a counsellor?

When one decides to see a counsellor, they are uncomfortable with something or are struggling with a major life transition. Counsellors may view people as being stuck, in need of new skills, or in need of growth, but they never view people as having something "wrong" with them. Counsellors DO NOT judge you.

How long will I have to be in counselling?

There is no magic number or formula to determine how long it may take. During your initial intake assessment and sessions, you and your therapist will have a conversation around making a guess of number of sessions in which your needs are best met. Although, it takes around 6 to 7 sessions minimum.

When will I start to feel better?

Relief may come from a variety of sources, including making changes in your thoughts, behaviors, relationships, and choices, and that may take time to achieve. However, many clients report that counselling can be helpful even after the first session. This may be because of the relief that comes from deciding to seek help, or an opportunity to speak about problems for the first time with someone who is impartial and non-judgmental.
Follow Us on Instagram
I do often indulge in social media posts on Instagram with the aim of opening a dialogue regarding mental health and for educational purposes. Social media account is not therapy or a substitute for therapy. Just by reading these posts, the emotional wound that you are experiencing may not heal, but it will definitely help you to gain insights, pique your curiosity, think more and seek answers within yourself. Through my posts and workshops, I try touching the most relevant topics which are sustained through scientific research and based on facts. I'll be glad if you extend your support by liking, commenting and sharing this profile to as many people as possible. Your one click will make a big difference.

Contact Us
Address

B-101, Ganesh co-op H. S.,Ganesh Peth Lane, Near Star Mall, Dadar – (West). Mumbai – 400028.

E-mail
Phone +91 9972449749
Working Hours Monday to Friday - 11 am to 1 pm & 4 pm to 8 pm

Saturday to Sunday : 11am to 2 pm