Approximately one in seven Indians suffer from a mental health disorder. Anxiety is a disorder with a global presence, and India is no exception. In recent years, there have been multiple studies suggesting that Anxiety is on a steep rise in India. The article sheds light on the current trends and presence of Anxiety disorders in India.
The National Mental Health Survey (NHMS)
The National Mental Health Survey (NHMS) is the last comprehensive Mental Health Assessment conducted in India in 2015-16. The survey reports that almost 15% of Indians need active intervention for one or more The survey estimated that about 3.5% of India's population suffered from some form of stress or anxiety-related disorder. That seems like a modest figure at first, but it amounts to more than 40 million in India which is quite a large number. 
The same survey also reports that the prevalence of anxiety disorders –

Age related

: is the highest between the ages of 18 to 29 years 

Gender-related

: females were more likely to be impacted by Anxiety as compared to males. 

Common diagnosis

: The survey also reported that Agoraphobia was the most common anxiety disorder followed by Generalized Anxiety disorder. 

Urban Vs Rural areas

: People living in urban areas were more likely to be affected by anxiety disorders than those living in rural areas.
The survey also mentioned that around 9.8 million kids aged 13-17 needed help with their mental health. Among these children, agoraphobia was a common issue, affecting nearly 2.6% of them. Phobic anxiety disorder was another problem, impacting 1.3% of children in this age group.
Other studies on the prevalence of Anxiety
A study conducted by Lancet in 2017 estimated that almost 197 million people had mental health disorders in India. Depression was the most common disorder affecting 45.9 million people followed by Anxiety impacting 44.9 million (3.3% of India's population). It also states that more females seem to be impacted by anxiety as compared to males. The study also found that the prevalence of anxiety was the highest in Kerala followed by Manipur, West Bengal, Himachal Pradesh and Andhra Pradesh. 
According to the data published by the World Health Organization in 2017, it was estimated that almost 38 million people in India suffer from anxiety disorders making it the second most common disorder after depression.
Anxiety Trends Since COVID-19 Pandemic 
The COVID-19 pandemic had a significant impact on global mental health with WHO estimating a 25% increase in the prevalence of anxiety and depression during the pandemic at a global level. Similar trends were observed in India. A Lancet study in 2021 reported a 35% rise in anxiety disorders in India during the pandemic. The study also found that women and younger people were highly impacted by anxiety and depression as compared to men and senior citizens.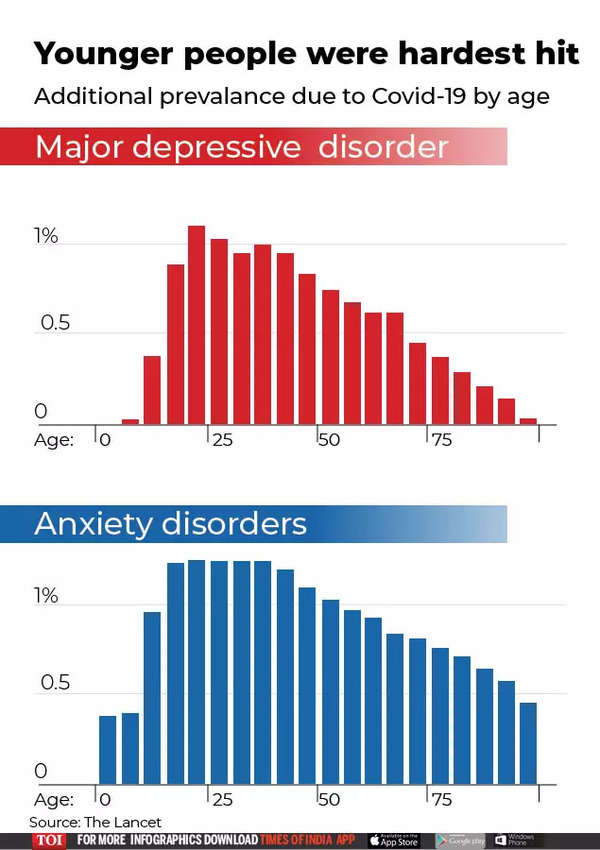 Image Credits: Times of India
Similar findings were reported by the World Health Organization's (WHO) data published in 2020. The data reported that almost 9.3 % of India's youth between the ages 18 to 24 years suffered from either Anxiety or depression during the early days of the pandemic, this number increased to 16.8 % by March 2022. The report also suggests that more women were impacted by anxiety and depression as compared to men.
Conclusion
The current trends, especially the data from the COVID-19 pandemic suggest an increase in anxiety disorders among youth which is certainly alarming as almost 65% of the Indian population is under the age of 35. The rising anxiety statistics also suggest a need for effective intervention to meet the growing demand for mental health services in the country.
References:
74% Indians suffering from stress, 88% from anxiety: Study | Health News—The Indian Express

. (n.d.). Retrieved September 29, 2023, from

https://indianexpress.com/article/lifestyle/health/indians-stress-anxiety-mental-health-study-7101237/

Anxiety, depression, panic attacks: How Covid took mental toll on Indians. (2022, March 28).

The Times of India

.

https://timesofindia.indiatimes.com/india/anxiety-depression-panic-attacks-how-covid-took-mental-toll-on-indians/articleshow/90492430.cms

Manjunatha, N., Jayasankar, P., Suhas, S., Rao, G. N., Gopalkrishna, G., Varghese, M., & Benegal, V. (2022). Prevalence and its correlates of anxiety disorders from India's 6. National Mental Health Survey 2016.

Indian Journal of Psychiatry

,

64

(2), 138–142.

https://doi.org/10.4103/indianjpsychiatry.indianjpsychiatry_964_21
4 . Mental disorders among 20 crore Indians: Breakup among states. (2019, December 25). The Indian Express. https://indianexpress.com/article/explained/mental-disorders-among-20-crore-indians-breakup-among-states-6183454/
5 The burden of mental disorders across the states of India: The Global Burden of Disease Study 1990–2017. The Lancet Psychiatry, 7(2), 148–161. https://doi.org/10.1016/S2215-0366(19)30475-4
Ferrari, A. J. (2021). Global prevalence and burden of depressive and anxiety disorders in 204 countries and territories in 2020 due to the COVID-19 pandemic.

The Lancet

,

398

(10312), 1700–1712.

https://doi.org/10.1016/S0140-6736(21)02143-7

Youth Struggle: Soaring anxiety and depression rates amidst a digital age

. (2023, August 28). India Today NE.

https://www.indiatodayne.in/lifestyle/story/youth-struggle-soaring-anxiety-and-depression-rates-amidst-a-digital-age-669090-2023-08-28

Youth, women suffered depression, anxiety in India during pandemic, new WHO data shows

. (n.d.). India Today. Retrieved September 29, 2023, from

https://www.indiatoday.in/diu/story/youth-women-suffered-depression-anxiety-india-during-pandemic-who-data-shows-2362947-2023-04-21