---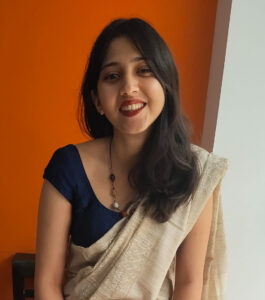 Diya Kapur
Counseling Psychologist
---
I am Diya Kapur, I am a psychologist with a dedicated commitment to promoting mental health and wellbeing. I have experience working with adults between the age of 18-45 from diverse backgrounds. I have had the privilege of assisting them in overcoming various psychological concerns which involve navigating personal emotional challenges, gaining healthy coping and interpersonal skills, improving relationships and achieving personal growth.
Through a collaborative and non-judgemental process, I empower my clients to explore their emotions, thoughts, and behaviours and strive to foster self-awareness and positive change.
I use a person centered approach with my clients as it allows them to be more involved and in control of their own therapy process.
I prioritize the use of eclecticism as I believe each individual requires a personalized treatment plan to help them reach their unique goals. I use techniques and therapies that are evidence based such as Cognitive behavioral therapy, mindfulness based therapies, dialectical behaviour therapy, and acceptance and commitment therapy.
I believe that each individual has the capacity to grow and heal. The client knows best about themselves and my job as a therapist is to be a helpful guide who helps them uncover their own strengths.
As a therapist I believe in the power of self-care not only for my clients but also for myself in order to show up completely for my clients. I do this by actively engaging in self-care practices and by going for regular personal therapy and supervision.
Additionally, I believe that to provide the best care to my client I need to stay up to date with the advancements in this fast growing field. I do this by reading, participating in workshops, seminars and so on.
Educational background
-M.Sc. in Psychology (Specialization in Clinical Psychology)- Montfort College, Bangalore, Karnataka, India.
-B.A. Triple Major in Psychology, Sociology, Economics- Christ University, Bangalore, Karnataka, India.
Work Experience
-Counselling Psychologist- The Mind Research Foundation (Feb, 2022- April, 2023).
-Tele-Counsellor Volunteer- Bruhat Bengaluru Mahanagara Palike (July, 2020- September, 2020).
Publications
A quantitative study on 'The influence of self-compassion intervention on stress and its manifestations in Indians working in the service sector during the COVID-19 pandemic'- Original article in 'The International Journal of Indian Psychology' (2022).