Depression is a condition that affects millions of people globally, and India is no exception. While some studies suggest that the rate of depression is escalating, others argue that it is on a downward trajectory. As one of India's leading online therapy platforms, Mind Voyage, we have been on the front lines, experiencing a significant uptick in therapy sessions, particularly following the onset of the pandemic.
This article aims to provide an in-depth, well-researched analysis of the prevalence of depression in India, scrutinising both the accuracy of available surveys and data from our client base.
All information presented here has been meticulously researched from verified sources and checked by our lead psychologist, Ms. Rasika Karkare.
We have examined the rates of depression in India using two primary methodologies: 
Surveys and 

Data science
Both approaches offer unique insights into this issue.
Depression Rate in India (Updated, April 2023): Survey Insights
The National Institute of Mental Health and Neurosciences (NIMHANS) and The National Mental Health Survey (NHMS) conducted the last comprehensive Mental Health Survey in India in 2015. Several other smaller-scale surveys have been carried out by organisations such as UNICEF and Deloitte. However, these do not provide a complete image of depression rates across the country.
The Union Ministry of Health & Family Welfare recently announced the launch of a new Mental Health Survey, the first in eight years, targeting metropolitan cities in India. We anticipate a more accurate representation of depression rates upon the conclusion of this survey, expected between 2024 and 2025.
According to the 2015 NHMS survey, one in every 20 Indians, or 5.3% of the population, was found to have suffered from depressive disorders at some point in their lives.
The 2015-16 National Mental Health Survey further revealed that 15% of Indian adults require active intervention for one or more mental health issues. The same survey indicated that At the time of the survey, 2.7% were reported to be actively dealing with these disorders.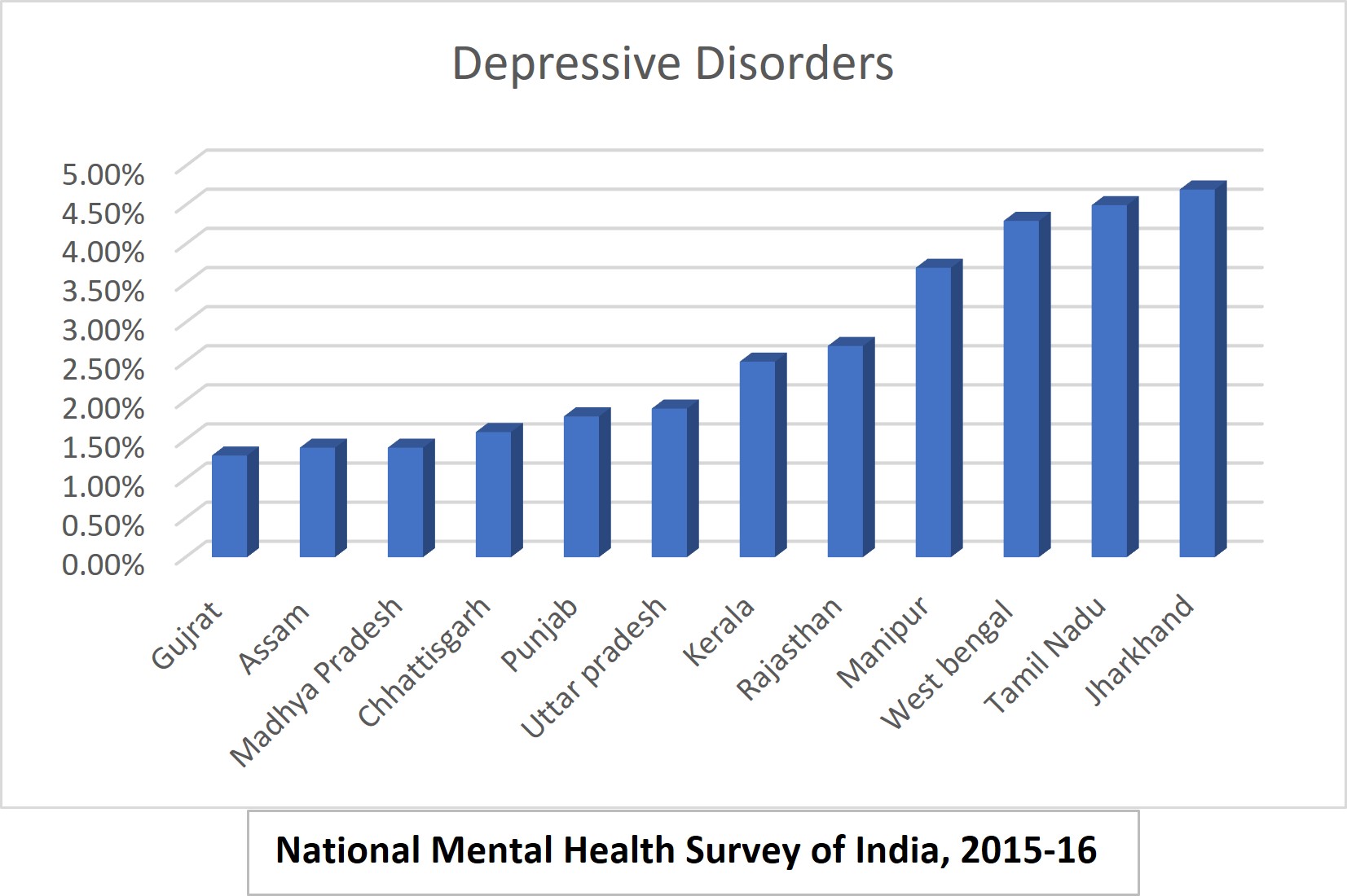 The above chart shows the prevalence of depressive disorders in different states at the time of the survey.
Depression Rates in India : A Data Science Analysis
To further our understanding of depression rates in India, we collaborated with leading data science professionals. Utilising publicly available data from Google, we gauged the interest in depression based on search data, providing an indirect indicator of its prevalence.
Our analysis shows that the number of Indians seeking information about depression symptoms has doubled since 2018, peaking in 2020 with the onset of the COVID-19 pandemic and maintaining an upward trajectory thereafter.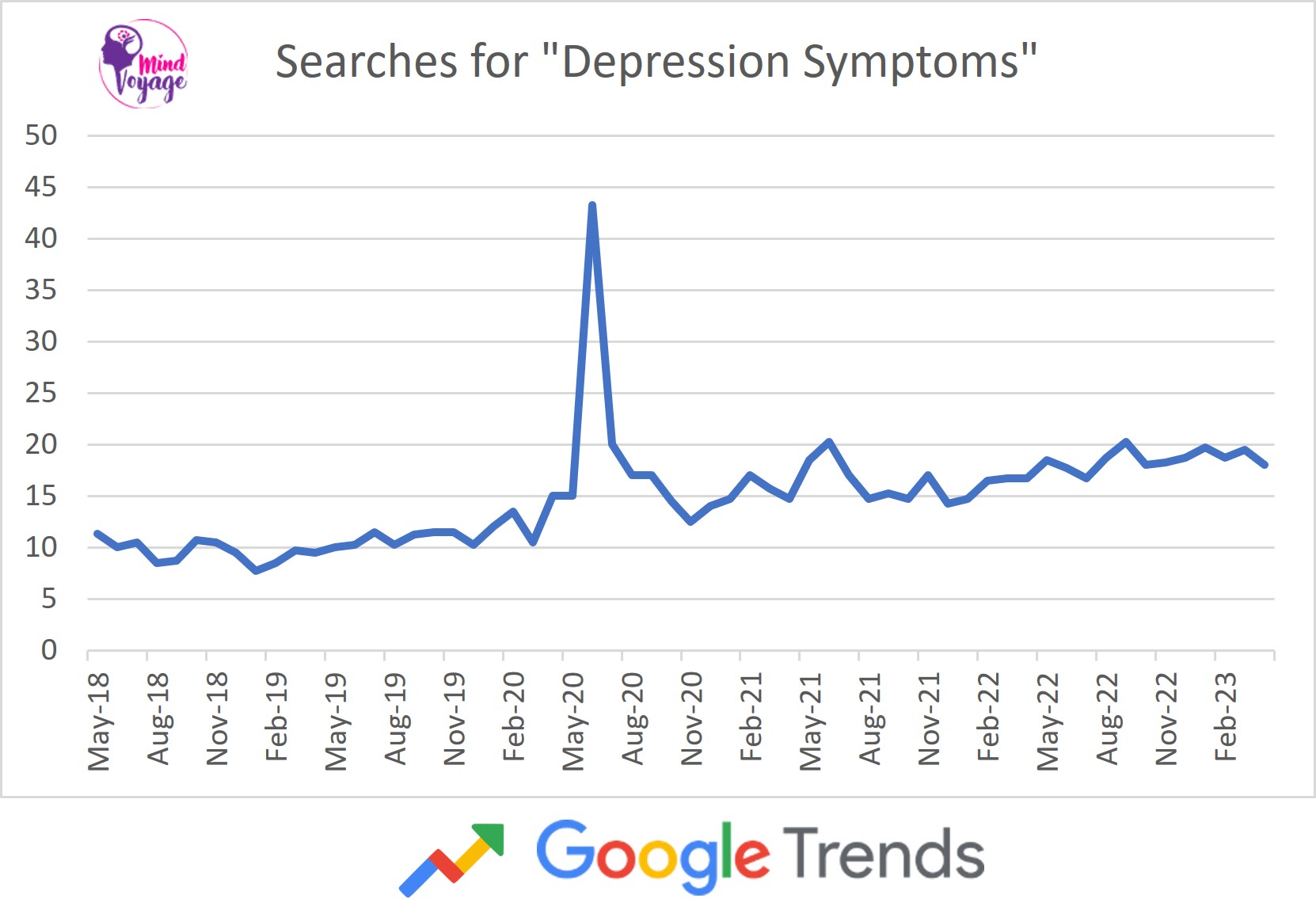 Source – Google Trends
Insights from Other Reputed Organisations
Supplementing the government data, surveys conducted by reputed organisations offer additional perspective. According to a Deloitte survey of 3,995 employees in 2021-2022, 59% reported symptoms of depression, including feelings of sadness, lack of interest, fatigue, concentration issues, and poor decision-making.
In a 2021 UNICEF survey, around 14% of 15 to 24-year-olds in India reported frequently feeling depressed or disinterested. The World Health Organization's 2015 report suggested that 4.5% of the Indian population, or approximately 56,675,969 people, were affected by depressive disorders.
Conclusion: The Urgency of Addressing Depression
The rising statistics underscore the urgency of addressing depression in India to enhance the overall quality of life. While it may not be possible to prevent depression entirely, proactive measures can potentially mitigate recurrence in individuals who have previously experienced it.
References –
https://main.mohfw.gov.in/sites/default/files/National%20Mental%20Health%20Survey%2C%202015-16%20-%20Mental%20Health%20Systems_0.pdf